Regular price
$14.99 USD
Sale price
$19.99 USD
Unit price
per
Sale
Sold out
Ingredients
Water, glycerin, aloe vera extract, polysorbate-20, citric acid, perfume, vitamin E
Product list
A pack of 80 extra thick, gentle, moist wipes.
About this item
Keeping your pet clean has never been easier! Our VIETDAIHYUNDAI Grooming Wipes are the perfect choice for routine cleaning of dogs and cats.
The hypoallergenic formula contains all-natural ingredients including Vitamin E, Aloe, and Skin Conditioners to keep your pet's coat shiny and healthy.
These ultra-thick moist wipes are gentle enough for everyday use, making it a breeze to clean faces, paws, and everything in-between!

   
Directions for use
Pull clear plastic flap open & pull out wipe from the package. Gently clean fur & skin. Discard wipe in trash after use. Safe for daily use all over pet's body including paws, coat, face, ears, belly, and rear end. Keep tightly sealed when not in use to prevent drying.
Details
The VIETDAIHYUNDAI color box is made of environmentally friendly materials and has no pvc plastic film. The color box may be scratched during logistics and delivery. Please be aware.
| | |
| --- | --- |
| Product | |
| Available Sizes | 8 x 8 inches |
| Specification | 1 packs*80 tablets |
| Scent Options | Unscented |
| Additional Features | Aloe extract,Alcohol-free,Hypoallergenic  |
| Available Formats | 80 wipes |
Delivery & Returns

Returnable within 30 days
You may return or exchange any order to us within 30 days of receipt, unless it is a personalized item.
For more information, please refer to our FAQ.
Standard Shipping
VIETDAI offers fast, secure shipping.
Standard shipping (4 to 5 business days)
Over $50: free express shipping on all orders
Less than $50: Depending on the country, shipping charges will be calculated at checkout based on the weight, size and destination of the items in the order.
*Delivery requires presence and/or signature*.
Delivery times are estimated from the time your order is shipped.
Ships within 24 hours


Share
View full details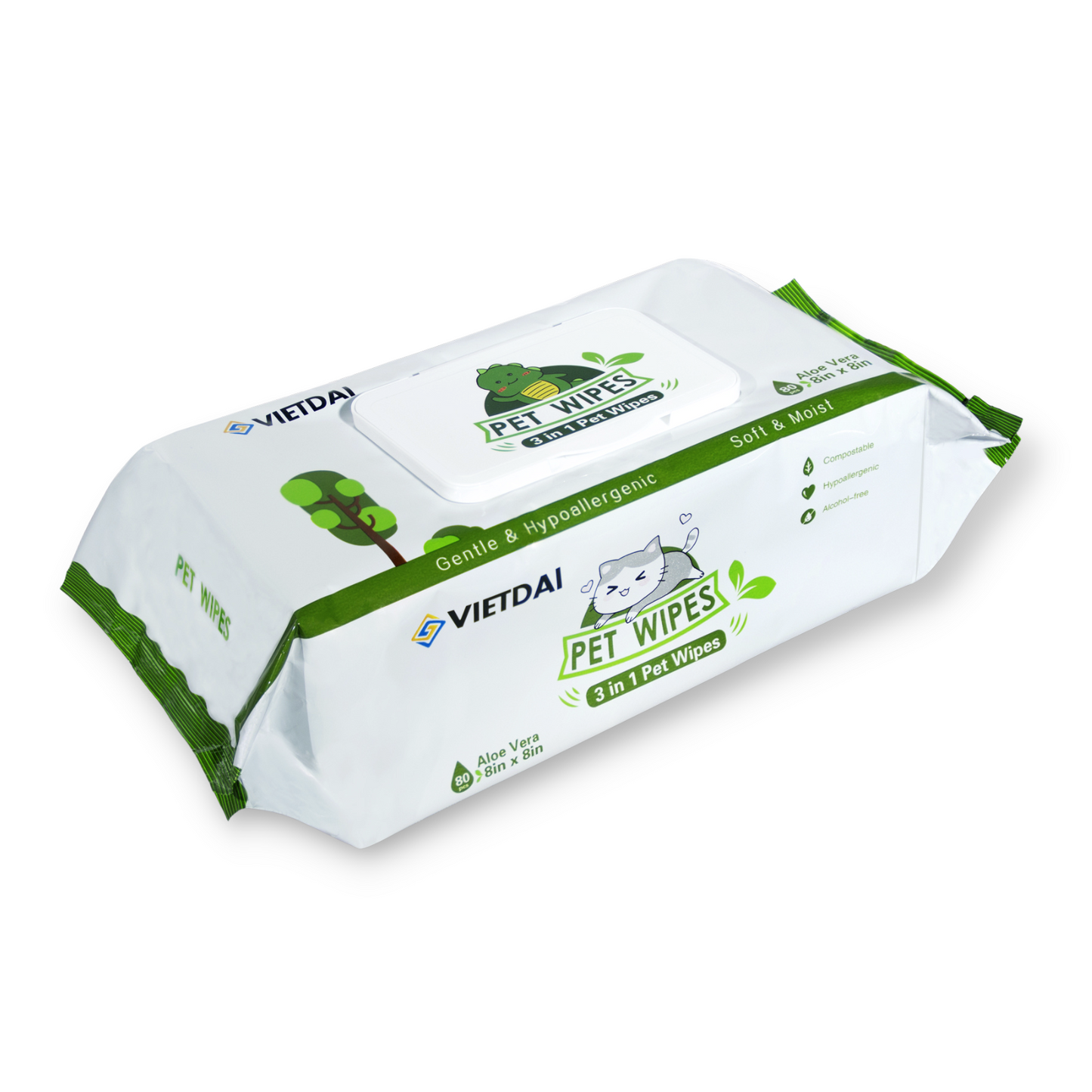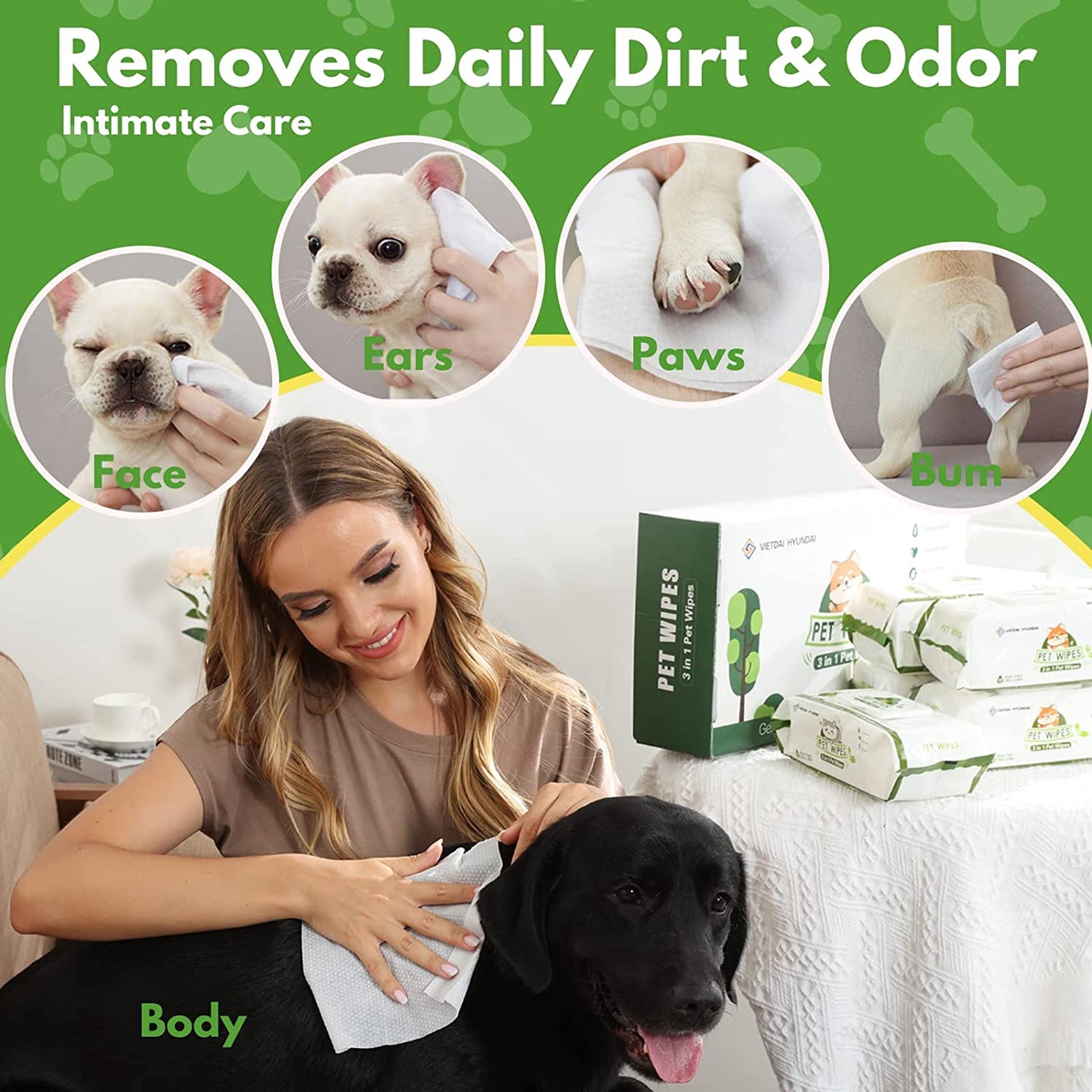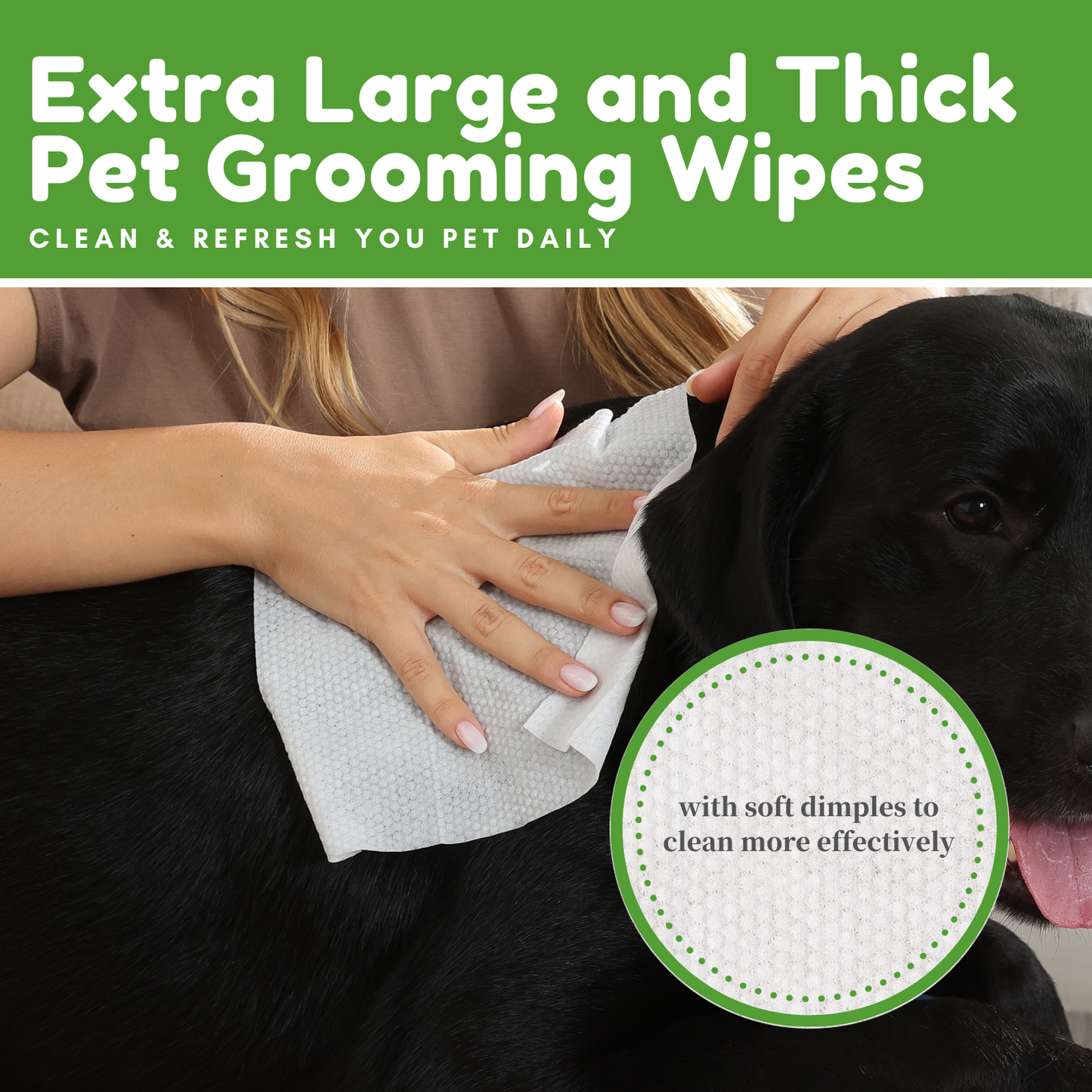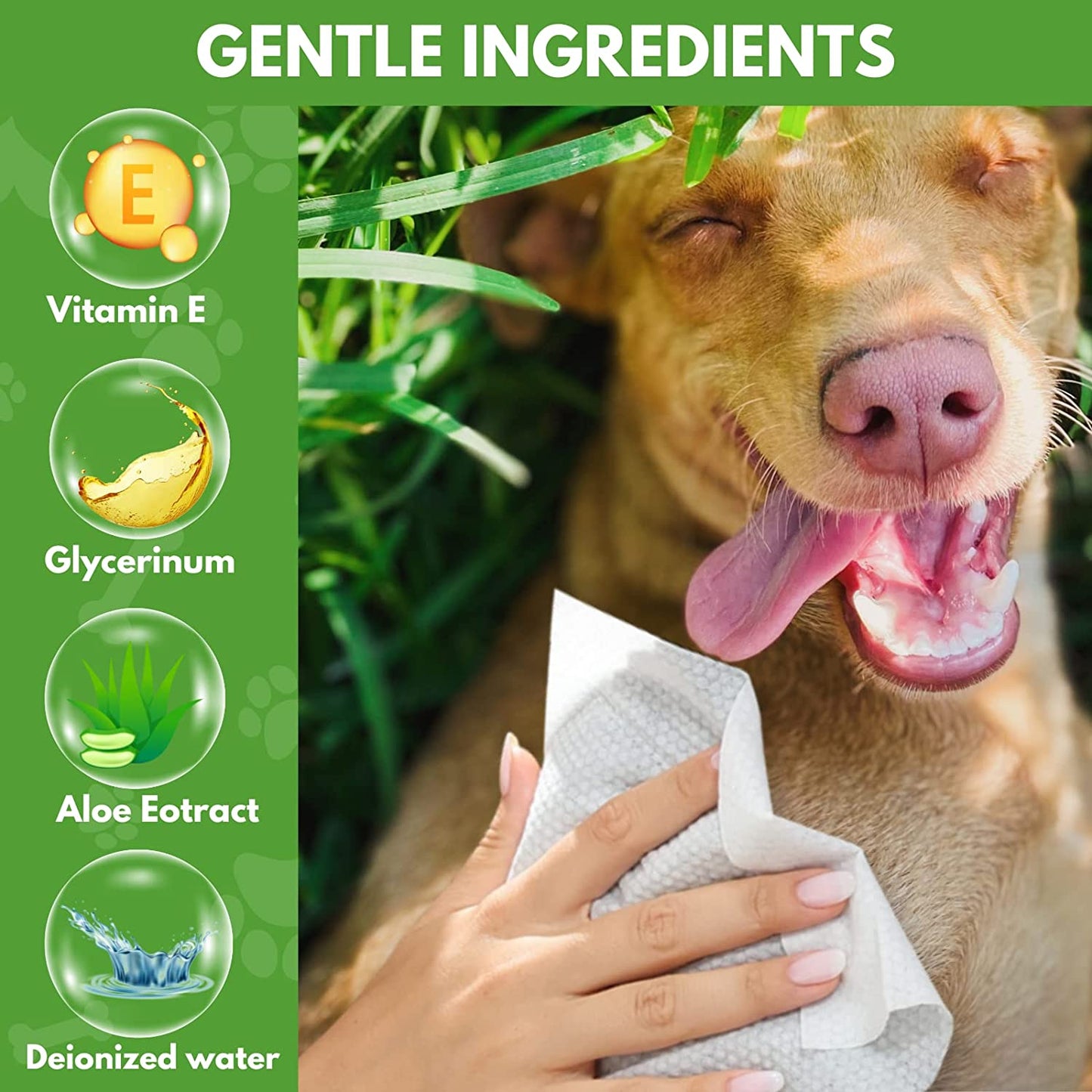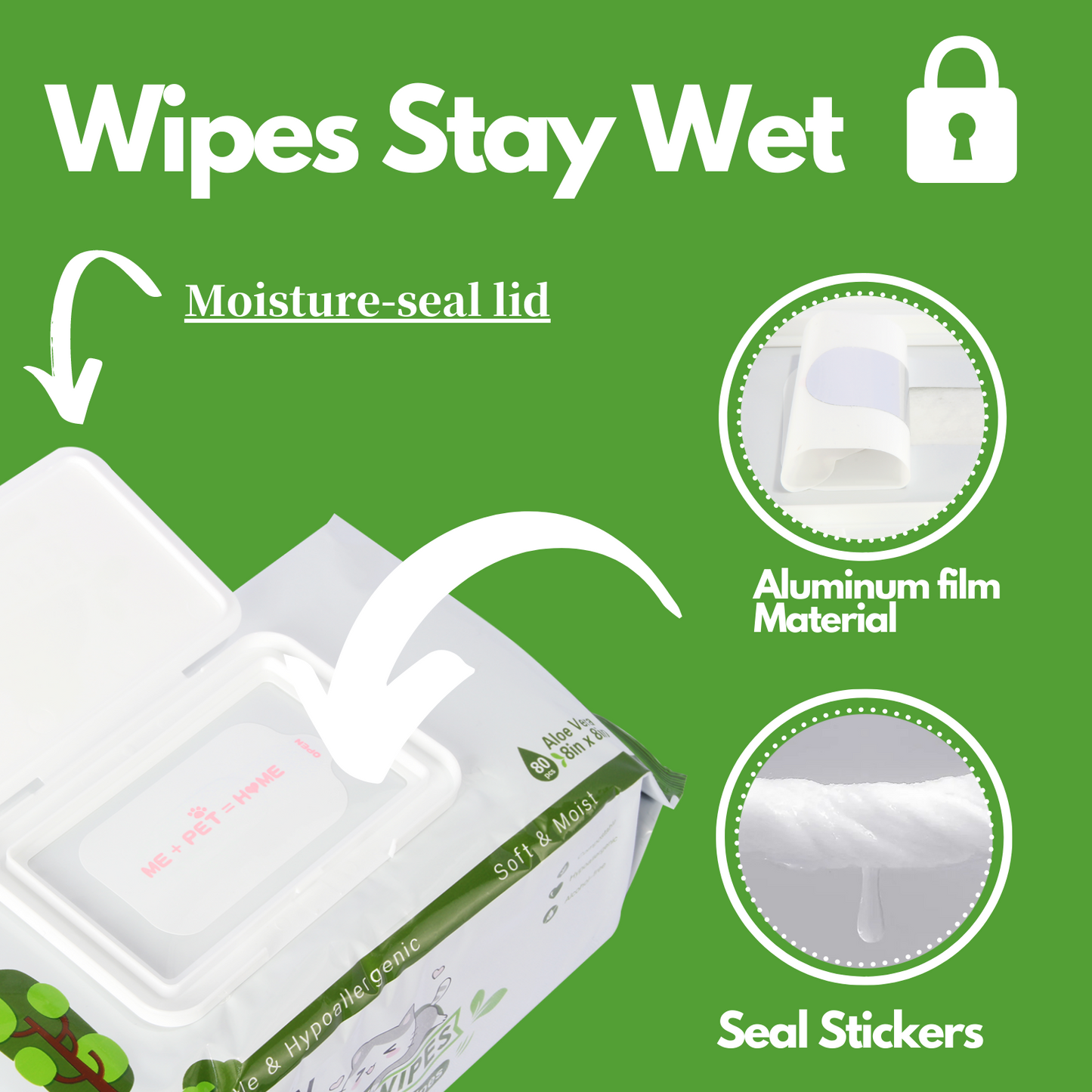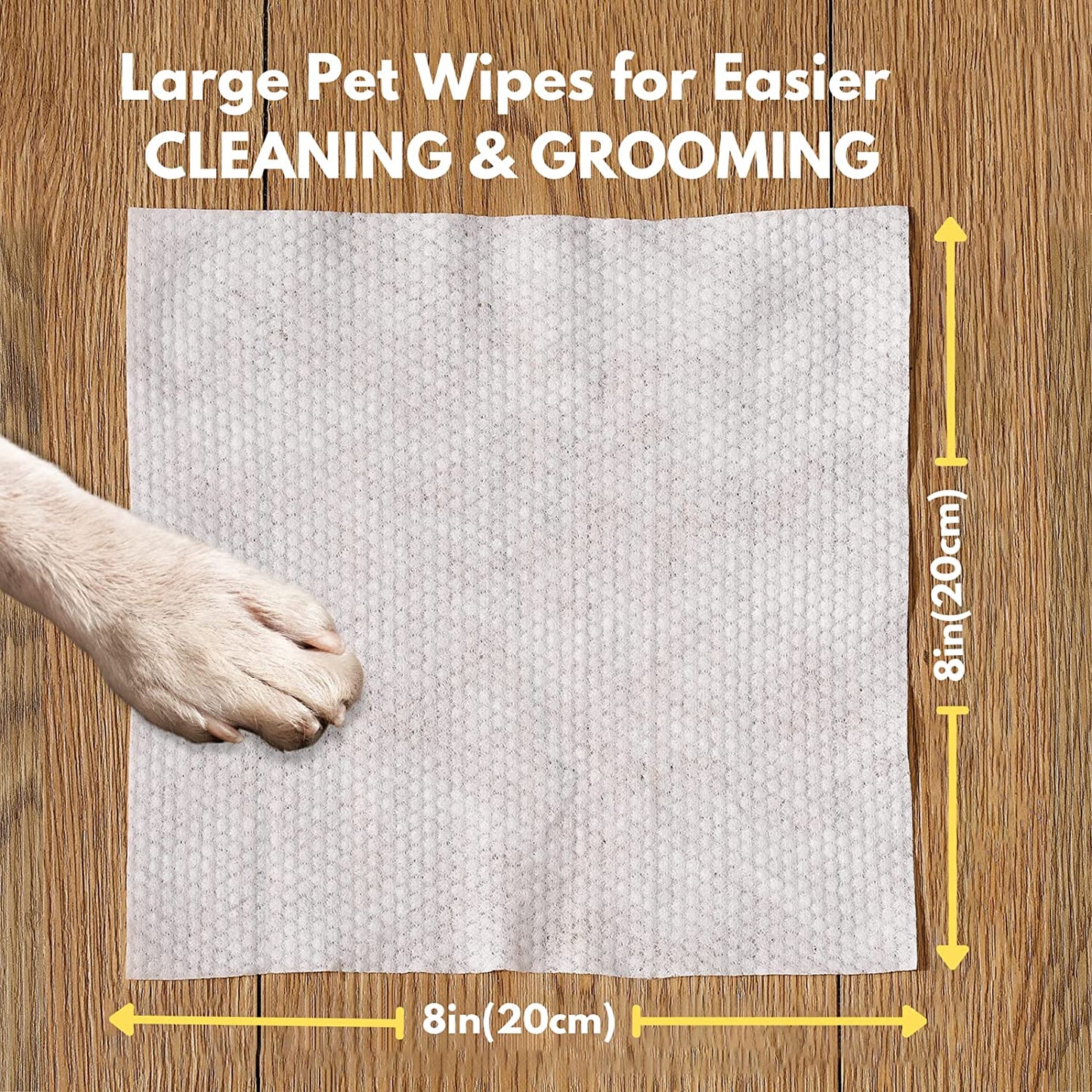 Pet Wipes FAQ
What can pet wipes do?

Our doggy wipes (8" x 8") are large enough to wash wipe down large breed dog wipes cleaning and away dirt, dander, and odor from pet paws, face, body, butt, eye, tear, ear, dental,wrinkle.
What are the ingredients in pet wipes?

Water, glycerin, aloe vera extract, polysorbate-20, citric acid, perfume, vitamin E.
Are your wipes flushable?

No! Wipes do not dissolve, please throw them in the trash, your toilet will thank you for doing so!
Are pet wipes irritating?

Hypoallergenic, free of preservatives, alcohol and harsh chemicals, made of thick, soft, gentle quality fabric with aloe vera, vitamin E, natural deodorants and skin conditioners.
Nice dog wipes.
These are nice and large wipes. Although it didn't do the job I bought them for I use them for dirty feet and face area.
Very mild and moist
Perfect for wiping, will not irritate the dog's skin, and can be used directly after going out and coming back.
soso
Wet wipes are very thick but dry in a flash, wipe not clean.
Very good
These wipes are very thin and fit perfectly into the crevices of the paws. The quantity of wipes for the money is unmatched in quality!
Good product expected to work well, easy to dispense paper towels
This is a great wipe, but I wish I could only dispense one at a time. This seems to be a common problem among pet wipes.